In the digital age, customer feedback has taken a central role in shaping the reputations of small businesses. One platform that has proven indispensable in this arena is Google Reviews. This guide provides all the necessary information about mastering Google Reviews for Small Businesses.
How Do I Leave a Review on Google for My Business?
To harness the power of Google Reviews, understanding how to leave a review is crucial. Here are the steps to follow:
Open Google Maps on your computer or smartphone.
In the search bar, type the name of your business.
Select your business from the search results.
Scroll down until you see the "Write a Review" button and click on it.
Rate your business and write a detailed review. Click post when you're done (you can even add a picture if you like).
Can I Leave a Review on Google without an Account?
Regrettably, you can't leave a Google review without a Google account. Google requires users to be logged in to ensure the reviews' authenticity and prevent spam. It is a small barrier for users, but it adds credibility to the review system and really does make it easier for Google to know if the review is real or not.
Where Do I Find My Reviews on Google?
Locating your business reviews is a straightforward process. Here's how:
Sign in to your Google My Business / Google Maps account.
From the menu, click on 'Reviews'.
Here, you will see all the reviews your business has received.
These reviews provide a goldmine of customer insights, so it's important to check this section regularly (and respond to them!)
How Do I Leave a Google Review in the UK?
Leaving a Google review in the UK is no different from any other location. You simply follow the steps outlined above. The process is the same whether you're reviewing a local shop in London or a quaint B&B in the Lake District.
Why are Google Reviews Important for Small Businesses?
Google Reviews can be a game-changer for small businesses. Not only do they influence potential customers, but they also affect search rankings. Businesses with higher ratings and more reviews are likely to rank higher in Google's local search results.
Furthermore, reviews provide valuable feedback for businesses to improve their products or services. They create an open line of communication with customers that can foster trust and loyalty.
How to Encourage Google Reviews?
You can encourage your customers to leave Google reviews by simply asking them. Send a follow-up email after a purchase or service, providing them with a link to your Google review page.
Responding to reviews, both positive and negative, show customers that you value their feedback. This engagement often encourages more reviews and can help build a strong online reputation.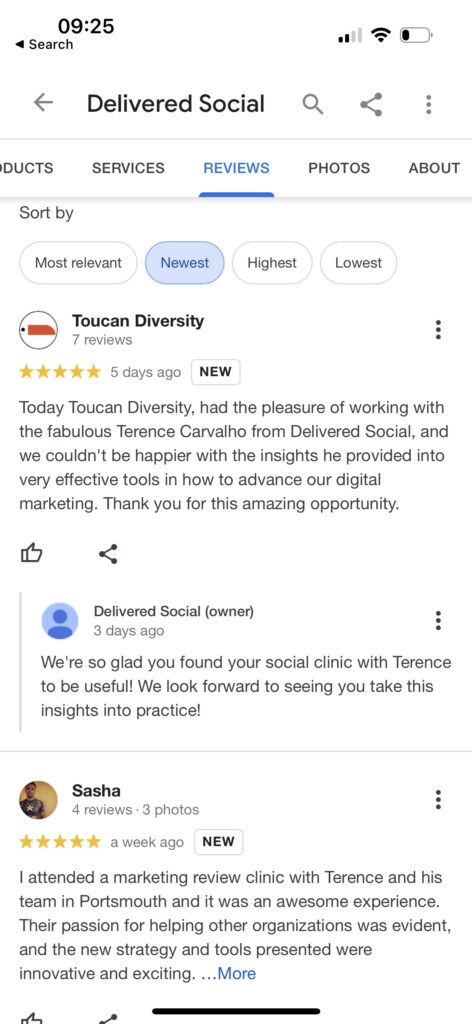 Google Reviews for Small Businesses – The Good and The Bad
Managing Positive Reviews
Positive reviews are a testament to your business's good work and can significantly boost your reputation. But it's not just about receiving them; managing positive reviews effectively is equally important. Here's how:
Express Gratitude: Respond to each review with a personalised message thanking the customer for their feedback. This shows appreciation and encourages more customers to leave reviews.
Highlight Positives: Reinforce the positive aspects mentioned in the review. This subtly markets your strengths to potential customers reading the reviews.
Share Reviews: Don't hesitate to showcase positive reviews on your website or social media platforms. They serve as testimonials and can increase customer trust and conversions.
Managing Negative Google Reviews for Small Businesses
Negative reviews can be daunting, but they offer a unique opportunity for growth and demonstrate your commitment to customer satisfaction. Here's how to manage them effectively:
Stay Calm: Always approach negative reviews with a calm and professional demeanour. Knee-jerk reactions can harm your reputation more than the negative review itself.
Acknowledge and Apologise: Acknowledge the customer's concerns and apologise sincerely, even if the mistake wasn't your fault. This shows that you value your customers and their experiences.
Offer a Solution: Whenever possible, propose a solution to the problem. This might be a refund, replacement, or another way to rectify the situation.
Take it Offline: If the issue is complex, consider taking the conversation offline. Offer to contact the customer directly to discuss the matter further.
The Fear of Negative Reviews and the Power of a Positive Review Strategy
Many businesses fear negative reviews, worrying they will harm their reputation and dissuade potential customers. However, it's crucial to remember that no business is immune to negative feedback. It's how you handle it that counts.
Having a positive review strategy can actually work as a buffer against the occasional negative review. If your business consistently receives and promotes positive reviews, a negative one will be seen as an outlier. Moreover, your professional and empathetic handling of a negative review can, paradoxically, boost customer trust and respect.
Regularly encouraging customers to leave reviews, promptly and thoughtfully responding to each one, and taking action based on the feedback received, are all part of a successful positive review strategy. By implementing this, your business's online reputation management will be significantly more robust, making negative reviews less intimidating and more manageable.
Remember, every review, whether positive or negative, provides an opportunity to learn, grow, and showcase your commitment to customer satisfaction. Embrace them, and you'll find they become a driving force for the success of your small business.
Google reviews for small businesses are important – they will GROW your business. Trust me!
However be under no illusion, Mastering Reviews for Small Businesses requires patience, attentiveness, and consistent engagement. By understanding the system and effectively using it, small businesses can boost their online visibility and credibility. Use them in your pitch decks, your social media channels and even emails you send to prospective clients – it will help you
For more detailed strategies when using Google Reviews for Small Businesses, especially when it comes to growing your business, check out this comprehensive guide here.
Take the time to monitor and respond to your Google reviews, and you'll be well on your way to leveraging this powerful tool for the success of your small business.